Notify Others:




Evernote will be in the list of the daily basis apps, it helps people who keep on thinking about something creative and sometimes meaningless ideas

Evernote helps us to be organized by organizing files in such a way we needed. Once users get into it, they can find a better alternative app than Evernote to take notes, capture photos, create to-do lists, record voice reminders and makes these notes completely searchable, whether you are at home, at work, or on the go. Sometimes Evernote will inspire you to write something worthy.
To get a better shape in terms of growth in all aspects Evernote finds some new features to make it unique. Recently, a new update called Handwriting arrives for Android users. Handwriting feature will let us write something within the note without swapping any application, just tap the paper-clip icon, then tap on the pen to start writing. You can choose different color or thickness of writing tools, once the writing is done tap on the checkmark to get back to typing mode. Handwriting feature is made possible by acquiring Penultimate, the iPad handwriting app.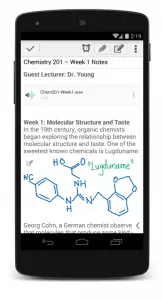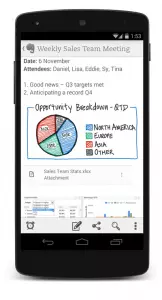 New features added
to
Evernote,
Write and sketch inside your notes!
Keep handwriting, text, photos, and files in the same note
Choose from several colors and line thicknesses
Better support for notes
made
on other platforms
Edit content in tables created on other platforms
Create a
note
link to quickly jump between notes
Duplicate a note
You can get these newly added features on your Android phone by updating the current version of Evernote from Play Store. Happy Notes Taking!
Here's the link to download Evernote from Play Store.
If you would like to add something to this notification, please share it with us in the comment section.
SOURCE: Evernote Blog
Notify Others:




The following two tabs change content below.

Yogeshwaran Selvaraju, Mechanical Engineer, Online Web Publisher. Completed Mechanical Engineering in a diverse way and finally ended up founding Tech2notify. He passes the time by Googling, Facebooking and movie buff.

Latest posts by Yogeshwaran Selvaraju (see all)