Notify Others:




Have ever noticed that your browser gets crashed while loading up GIF animations? Most of the times it happens. Actually, we don't need those GIF animations while browsing and we won't use those GIF animations too. If you would like to stop the animated GIF's playing automatically in your browser do the following instructions,
For Firefox Users

Open a new tab in the browser, type about

:

config in the address bar and then hit ENTER.
You might see "This might void your warranty!" notification, just click "I'll be careful, I promise!"
Type animation in the search box and choose image

.

animation_mode

Double click on the image

.

animation_mode, and enter the string value as none

by

removing normal in the pop-up box.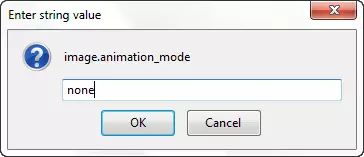 For Chrome Users

Chrome users add Paused! extension to your browser to stop playing animated GIF's automatically.
Here's the link to download Paused! From chrome store.
For Opera Users

Open your browser and hit F12 button.
Remove the check from "Enable GIF/SVG animation" option.
For Internet Explorer users

Let the web page to load and hit the ESC button.
The above mentioned ESC button method would work on all browsers, maybe not all the time. If you know any other method to stop playing animated GIF's share it on our comment section.
Notify Others:




The following two tabs change content below.

Yogeshwaran Selvaraju, Mechanical Engineer, Online Web Publisher. Completed Mechanical Engineering in a diverse way and finally ended up founding Tech2notify. He passes the time by Googling, Facebooking and movie buff.

Latest posts by Yogeshwaran Selvaraju (see all)