Language is not only the problem while we're on travel, sometimes the public transit too. If you're willing to use public transit like bus, train, tram in a non-native country without knowing the language is not an easy job, as the wordings written on the transit will be in their own native language. But it's an easy job if you know how to use Google maps. Google map helps me a lot since the past few weeks, and I would like to share it with you.
Advertisement:

For PC Users

Go to http://google.com/maps, and click Get Directions button in the left corner below the search box.

Choose By Public Transit option from the available options, by car will be the default option.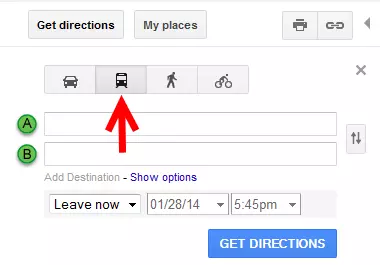 Type in your current destination in the text box A and the destination to reach in the text box B.
By clicking the blue colored Get Directions button, you will get the public transit info and their time of arrival.
You can change the timing and date according to your need by using the drop down boxes below the B text box.
Advertisement: