Every blogger works to present their blog in an appealing way. If the blogger uses WordPress platform then the work is a lot more easier and simpler, as the work for the blogger is to search the best hosting providers, theme, and plugins(no coding required). To dilute your work load we had listed out the best WordPress Popular posts plugins below, choose the best one for your blog and comment your favorite plugin in the comment section.

Advertisement:

WordPress Popular Posts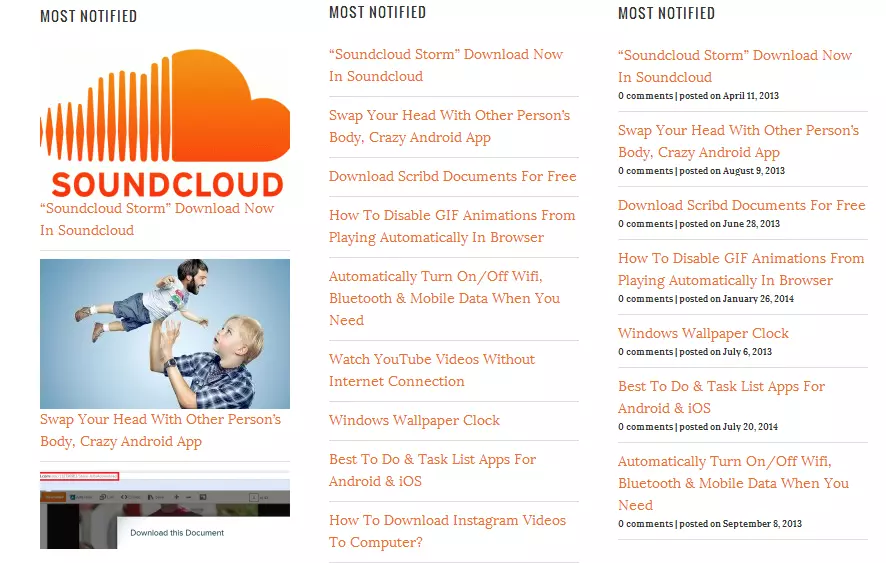 WordPress Popular Post plugin is our favorite among all other popular post widget , and you can find the plugin in our sidebar. It has more options to customize based on our need & no coding skill required to edit the code, just input the values and tick the check boxes.
Features:
Multi-widget capable – That is, you can have several widgets of WordPress Popular Posts on your blog – each with its own settings!
Time Range – list those posts of your blog that have been the most popular ones within a specific time range (eg. last 24 hours, last 7 days, last 30 days, etc.)!
Custom Post-type support – Wanna show other stuff than just posts and pages?
Display a thumbnail of your posts! (see the FAQ section for technical requirements).
Use your own layout! Control how your most popular posts are shown on your theme.
WPML support!
Experimental WordPress Multisite support!
Download WordPress Popular Posts plugin.
Popularity Posts Widget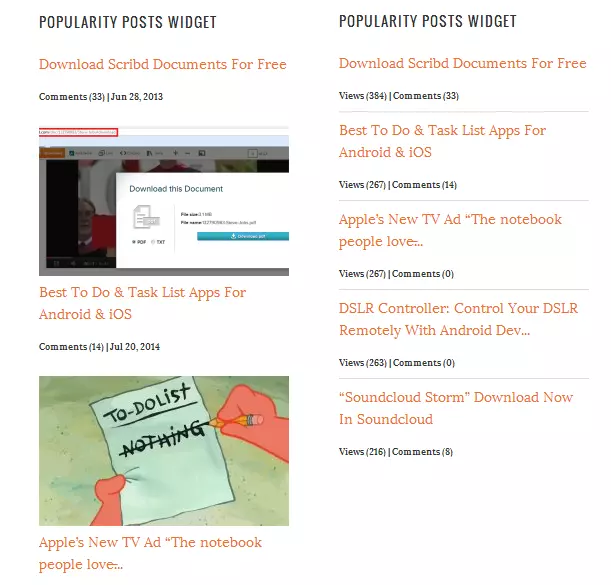 As the name says the plugin is popular on all WordPress blogs. Popularity posts widget is same alike the above plugins but it got its own unique features to customize your blog.
Features:
Time Range.
Flexibel Display Settings.
Display a thumbnail of your posts!
Categories Filter.
Easy to Change CSS Styles.
Shortcode and Template tag support.
Download Popularity Post widget plugin.
Popular Widget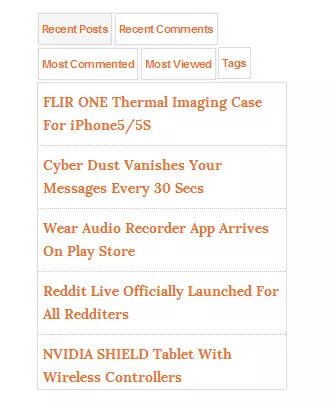 More than 68,000 downloads and 4.4 rating from the users. Comparing popular widget with other plugins you will find a unique appearance and category filtered.
Features:
Day range
Title length.
Count Display.
Excerpt option & length.
Category filter.
Display thumbnails & recent comments.
Calculate visits or page views.
Download Popular widget plugin.
WP-Popular Posts Tool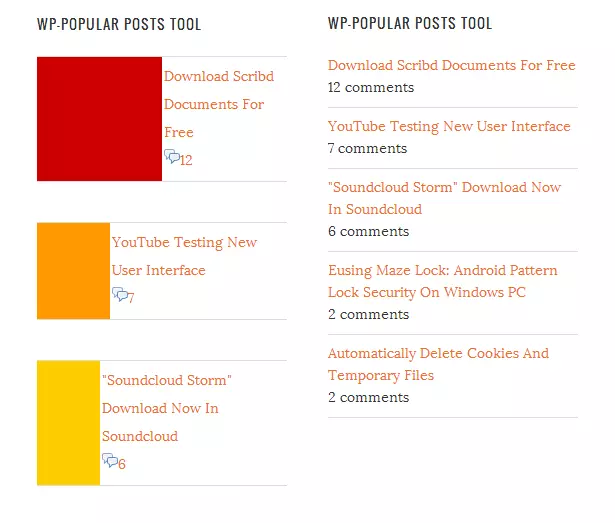 Description:
Enables you to automatically display most commented posts, either by category or tag. Optional: You can choose manually the category or tag you want to display its most commented posts. It has several configuration options, and can list your comments with color bars.
Download  WP – Popular Posts plugin.
Easy Popular Post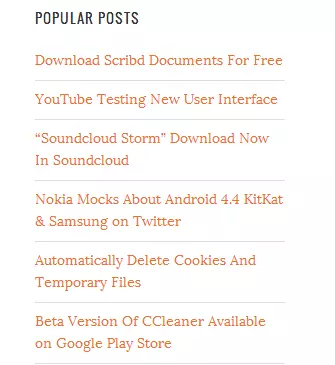 An easy to use WordPress function to add popular posts to any WordPress theme. More than 200,000 downloads and 3.7 rating from the users.
Download Easy Popular Post plugin.
Simple Popular Content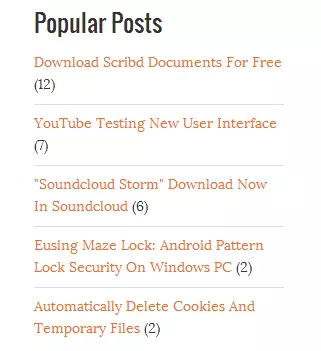 Description:
Simple Popular Posts is a plugin that creates a widget for you to put on your sidebar. The widget shows the most popular posts on your blog, based on the number of comments.
Download Simple Popular Content plugin.
Advertisement: