Are you aware of Heartbleed bug? Sure, You would as the hot topic on internet nowadays was about it. If you're not aware of it, just have a brief quick glance at Wikipedia page to find how vulnerable it's to you and all. It seems to be Heartbleed is a serious bug in the history of internet. If you're not aware about Heartbleed's history, then your history on internet would be erased by someone.
Advertisement:

On a short note about "Heartbleed",
"Heartbleed Bug is a serious vulnerability in the popular OpenSSL cryptographic software library. This weakness allows stealing the information protected, under normal conditions, by the SSL/TLS encryption used to secure the Internet. SSL/TLS provides communication security and privacy over the Internet for applications such as web, email, instant messaging (IM) and some virtual private networks (VPNs)."
Well, we may not know whether a site is affected by Heartbleed bug, until the webpage notify us. As it affects popular OpenSSL sites, we may be accessing at least a single affected page daily, which makes us more insecure about it. As all other sites are patching up the affected sites, and there are few steps taken to get rid of the vulnerable. If you would like to detect a Heartbleed attacked page, do make use of Chromebleed extension on your browser to get notifications while browsing.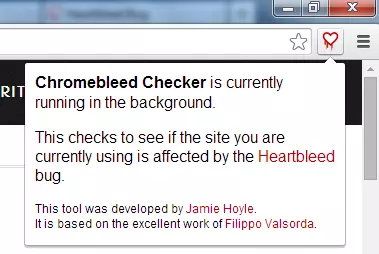 Just add chromebleed extension to your chrome web browser, and start browsing as usual. Once you're taken to a heartbleed affected page, you would get notification about it, and you're requested not to access the site further more. If you need any further details about the attack on a webpage, do contact the officials via social media accounts, mail and more. As you would get more details from them for sure.
Here's the link to download chromebleed from Chrome web store.
Learn more about Heartbleed bug.
If you would like to add something to this notification, please share it with us in the comment section.
Advertisement: