YouTube is a far-flung video-sharing site, as you know it's one another arm of Google with uncountable videos. With YouTube you can execute various features other than downloading and sharing of videos, there are lot more efficient work can be done with it to make YouTubing simple and elegant. Here are some known and unknown magic tricks in YouTube,
Advertisement:

Specify Start Time
Here is the magic, you can specify start time in a video and you can also share only a portion of YouTube video to users.
Just add  #t=xmys at the end of URL  (x is minutes;  y is seconds)

You can also use embedded code to show only a particular portion of video,
Check YouTube Speed History

You can check YouTube video speed history by visiting http://www.youtube.com/my_speed
Auto Replay Videos

BasicallyYouTube wont auto replay videos once played, but you can auto replay videos any number of times by using this magic.
To perform this magic you need to replace youtube with infinitelooper in the URL and hit enter and it will take you to third-party platform where the same YouTube video will auto replay any number of times


If Slow Internet Connection

Are you on a slow internet connection? YouTube video struggling to buffer? No worries make use of this link http://www.youtube.com/feather_beta and "join the "Feather" Beta to get better performance on slow net connection.
If you would like to get back to old one, once again visit http://www.youtube.com/feather_beta and click on Leave the "Feather" Beta.

Get Exact Video Using Title

No need to waste time on searching a exact video, just get the exact video by using this magic. Just search "allintitle: keyword" replacing keyword with your own keyword to search. Sure you will save time by using this.

Exclude Keyword From Video

YouTube is filled with uncountable videos, getting exact video is bit tricky, but its been simplified by searching video using "keyword -excluded keyword" replace "keyword" with your keyword to find and replace "excluded keyword" with the word that you don't want to get in the video.
For example: If you want to know about WordPress hosting features other than hostgator, then start searching "wordpress hosting –hostgator". You will be getting search results on WordPress hosting by excluding Hostgator videos.
Highlight Only The Video While Playing

Watch the video without any distraction by fading out all other lighting in browser, it highlights only the video playing. It gives more pleasant viewing experience to YouTube viewers.
To get this in Firefox download Turn off light and install add on to Firefox.
To get this in Chrome download Turn off light and install the extension to chrome.
Click on the icon shown inaddress bar to turn on or off the light effect in YouTube.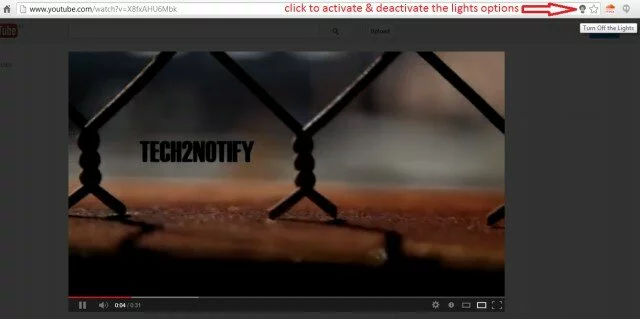 If you know some other tricks in YouTube just share about it in comments, lets all know about it. HAPPY YOUTUBING!!!
Advertisement: