Instagram v4.0.0(Instagram video version)
Requirements: 2.2 and up
Overview: 100 million users love Instagram! It's a free, fun, and simple way to make and share gorgeous photos on your Android.
Advertisement: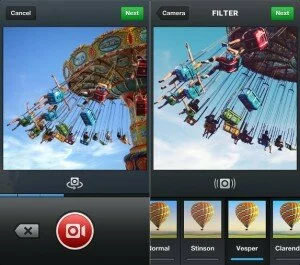 Pick from one of several gorgeous filtered effects or tilt-shift blur to breathe a new life into your mobile photos. Transform everyday moments into works of art you'll want to share with friends and family.
Share your photos in a simple photo stream with friends to see – and follow your friends' photos with the click of a single button. Every day you open up Instagram, you'll see new photos from your closest friends, and creative people from around the world.
Features:
* 100% free custom designed filters and borders
* Lux works its magic by making your photos more vibrant and brings out details in your photos you couldn't see before
* Linear and Radial Tilt-Shift blur effects for extra depth of field.
* Instant sharing to Facebook, Twitter, Tumblr, Flickr, and Foursquare
* Interact with friends through giving & receiving likes and comments
* Works with Android versions 2.2 and above that support OpenGL ES 2
* Full front & back camera support&amp
* And much much more…
What's in this version:
New in 4.0: Video!
We're excited to introduce Video on Instagram and bring you a new way to share your stories.
When you go to take a photo on Instagram, you'll now see a movie camera icon. We also added 13 new filters that we built specifically for video.
Note: Capturing videos is currently supported on devices with Jellybean (4.1) and above. All Android versions can already play videos on Instagram, and we're working around the clock to enable capturing videos on many more Android devices.
Download Instagram From Play Store
Source:Xerol
Advertisement: