This is gonna be our second off topic category in our Tech2notify, but it got some ingredients to notify others. The backdrop of this post is about "How would I inspire and mobilize India's youth to vote in the Indian General Elections 2014 using social mobile apps?." This would be some kind of serious question with youth(me). If you question Indian youth to list out social media or apps to connect with your friends, you can get a long list of media's and application which we may know or sometime we may not. If ask an another question like "List out few names of the candidates name who will be held to elect in Indian General Election 2014?." The answer would uh… hmm… sorry, sometimes our reaction would be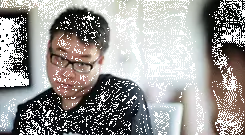 Coz its too hard to make our youth to concentrate on a particular topic like politics, election and some blah blah blah. Reason is they find it as their off topic and its only the elders should think about, or we will think about it later when we get old. But not all our Indian youth think elections as an off topic some take it serious and vote for the person who would be eligible. To enable all other youth who wont take up election as a serious one is not tough job to change them as there are some known facts to attract them into these.
Some facts about youth to attract towards,
There should be some one to push them towards it or the one who has many fan following can lead their followers in a correct way.
Some buzz should be created like trending a particular topic in social media like Facebook and Twitter using #(hashtag).
An inspiring video which remains about the past to think about it, because we all have short term memory loss.
Should make each and everyone to feel that they have they their own part to play in it.
To inspire Indian youth in Indian General Elections 2014 using social media apps,
Should create a unique display picture for all social media accounts and spread it to all to make it as their display picture. They can use it as their wallpaper in PC or smartphones.
Here's our contribution towards it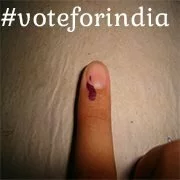 Should make

#voteforindia

as a trending topic from now onwards in all social media till the election date. Which make others to think why this is trending all days?
Every social media apps should remind something about election before loading or bring up some quotes while using the app.  Creating themes or skins based on election.
Should create a contest or even debate within social media about it on various genres, award best presenters & participants too. By making this each and every one would think that their part is some what within it, and we should do something towards it.
Should create awareness by gathering all data from the past, create the statistics about it and post it to all. Each stats should have an hashtag #voteforindia.
Create an inspiring video about our present circumstances happened from past elections, and also we should show what should been done to get cured in the future.
All should know their right without disturbing others privacy. We all know that everything needs a push to reach its destination. So lets try our level best towards it to accomplish our destination.
Here's a video by Adhi named as Official Election Anthem,
My favorite lines in the anthem,
Vote for your right, stand up and fight.

Im in the country full of dreams, in the country full of dreams. In the country where they support democracy, but the people live in poverty and people in the streets, and half of the people have no food to eat. Why! why they're gonna die?

stand back and fight, vote for your right.
The following two tabs change content below.

Yogeshwaran Selvaraju, Mechanical Engineer, Online Web Publisher. Completed Mechanical Engineering in a diverse way and finally ended up founding Tech2notify. He passes the time by Googling, Facebooking and movie buff.

Latest posts by Yogeshwaran Selvaraju (see all)