Any movie buff out there? We got a great app for you to watch more free movies on YouTube using your Android smartphone. We all know YouTube is providing movies section in few languages were we can watch full movies for free and by paying too. Its easier to watch movies when your in front of your PC. If you don't have your PC/Laptop with you and you have only your smartphone left with you what would you do? Its hard to out find movies we love, but we got a cure for all movie buff's to watch it on YouTube for free! using smartphone.
Advertisement:

MovieTube is a free utility app for the movie buff's, as you can use it as a search engine to search for free full movies on YouTube. You can watch movies in 18 languages including English, French, Chinese, Hindi, Tamil, Spanish, Portuguese and more. You can watch movies according to the genre and year it got released. It supports Android version 2.1 and up.
It's just a search engine to search and get full movies for free. You need to install the YouTube app to your Smartphone before installing MovieTube. Once you have installed MovieTube to your Smartphone, launch the application to start searching for the movies. You can swipe right from the left side to access Setting, Languages and more. You can search for movies by clicking the magnifying glass icon at the top right corner.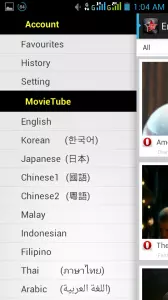 Once you have searched and found the movie you want to watch just click on the movie. But before clicking on the movie check the icon used before the title of the movie if it has a YouTube icon, then you can watch in YouTube app, if it has opera browser icon, then it's not available in YouTube so you need to use your browser to search for it.
After choosing the movie, click on that movie, and you will be provided with the movie info available on IMDB. By clicking on Watch Movie button a pop-up will appear, and you need to choose the application. By choosing YouTube app the movie will be started playing. After that, place the mobile in an ideal position and enjoy the movie with popcorn.
That's it!. Do you find this app interesting or you have any other application similar to it, don't hesitate to comment in our comment section below.
Update: User had removed the app from play store and iTunes, will update you soon when it comes back.
Here's the link to download MovieTube from Play Store.
Here's the link to download MovieTube from App Store.
If you would like to add something to this notification, please share it with us in the comment section.
Advertisement: