Cooliris is an personal media hub, which is used to access all photos within one app, websites like Facebook, Instagram, Flickr, Picasa, Tumblr, Twitter, Google +, Google Drive can be accessed. Cooliris app launched for iOS two years ago in July. Now Cooliris app is made avail for Android. Between these years they were spreading their markets in overseas and Cooliris has Forty million registered users world wide. The 3D wall Display is very cool and attractive.
Advertisement: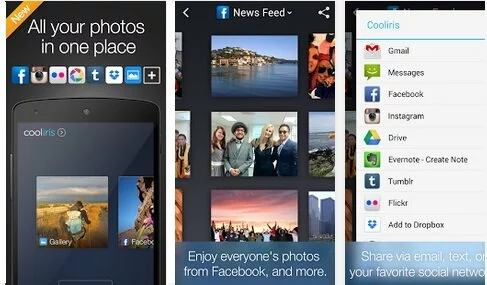 Features :
Share you photos via email, text or Favorite social network.
Save photo to your device or Google Drive
See photos from Facebook friends, Instagram Followers, Flickr contacts.
Fast, Fluid and Stunning 3D Wall photo Experience.
Cooliris will be a portable mini photo album for you, if you have installed it to your devices. It helps quick regain of memorable moments without a time lag. Don't miss it.
Here is the link to download Cooliris from Play Store.
Here is the link to download Cooliris from iTunes Store.
If you would like to add something to this notification, please share it with us in the comment section.
Advertisement: