Previously, we notified you the best video conferencing applications. If you're interested in making phone calls than video conferencing, we got a easy way to conference around the world. Its not just limited to calls, as you can send SMS, call both fixed line and mobile.
Advertisement: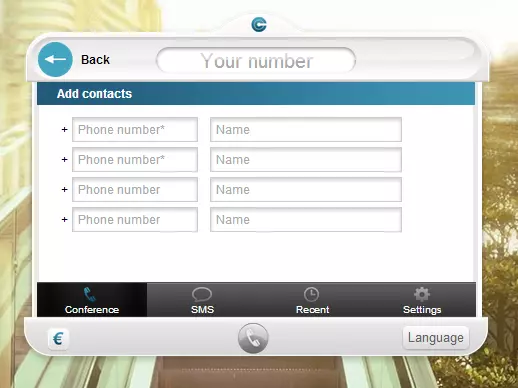 Confer Call is the new and easy way to conference around the world. Using Confer Call, you can call the whole world for only 9 cents per minute, both fixed line or mobile number. Confer Call promises us that we will never wait for people to join the conference, we never need a pin or dial-in number and we never have a bad connection again.
Before signing up you can test the call quality of Confer Call, just click the "Try for free" button. In trial method, you can make a conference call for a time duration of 5 mins. You can enter 4 phone numbers with country code in "Add contacts" field, and enter your phone number with country code in "Your Number" field. After entering phone numbers click on "green phone button" to start the conference.  You can make international conference calls too. Our trail method was a successful one and we didn't have any glitches while using Confer Call
If you're satisfied with the call quality, you can sign up account and you can use promo code "Gratis 2 euro beltegoed" to get 2 euros for free. The call quality is better and the call cost is considerably as low as compared to other networks, so you can give a try. You can purchase cash when you need, minimum purchase would be €5. If you need further clarification about Confer Call, just visit FAQ page.
Here's the link to visit Confer Call.
If you think there are some better networks than Confer Call with low pay per call cost, do share it with us in the comment section.
Advertisement: