The word "scam" had spread out wide in Internet. You may end up with a scam site while Googling, via email, referral and by many possible ways. By chance you can get rid of scam sites, but what happens when you get through it. Its about my experience where I had ended up with a scam site by Googling.
Advertisement:

But before sharing my experience here is an (e)valuable URL found recent times to check how safe the site is and how to get rid of scam sites. Sure it will help you out through something,

Its too easy to evaluate a safe and a scam sites using Scamadviser, it provides all info about the website you need to check. You can check any website by typing the URL in the search bar and it also provide the list of risk sites apart from our search results. You can also get a trust seal from scam adviser by getting your site verified, which helps your visitors to feel safer browsing :). Info about the owner, address, contact number, post code, email, name server and more are available in it.
By using the rating, notes evaluated by scam adviser will help you to find out the safer level of site or you can make use of comments by the users at the bottom. A word will help out from something. You too can comment about a site if you found it risky.
Its more safe if you found good score,

Beware if you found some risky site with minimum score,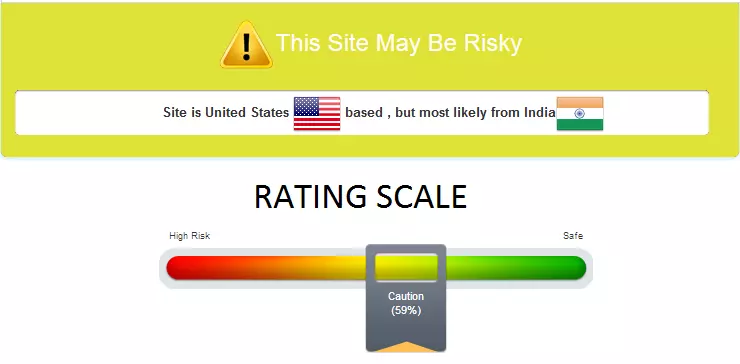 But some sites may be misjudged in it, just Googling review about it would help you out.
What made me to write this?

ME VICTIM OF A SCAM SITE, I would have saved my money, if I had found scam adviser few years back. I too Googled about how to earn money online in early stages when I was started using the internet and finally ended up with a scam site, and they asked me to pay some money to get their product via mail. I too paid them without doing any research about them, as I was more keen on earning money online but it turns out to be vain. They send me some long list of URL's and said me to do review using URL and when I clicked those URL it landed up in "PAGE NOT FOUND " . Then what next? just contacted them usingcontact us mail id, but they didn't reply me back even in my dreams.
Later, I checked the URL with scam adviser, as I already know it says its a risky site and users too commented about the site as a fraudulent site.
Don't be a victim like me as I did in my earlier days. Just do some Googling before trying out or make use of scam adviser.
Visit scam Adviser.
Advertisement: