No one will like to let down their brand or network in lacking of features when compared to their competitors. Its happens in social networks too, where they won't like to let their single viewers to move to their competitors network for lacking. Most competing rivals in social networking is Facebook versus Twitter. Both Facebook and twitter are in the list of top ten websites with more visitors and page hits in a day. Both having a good and healthy compete with each other by enabling features what each other have and don't in their networks. Twitter recently enabled blue line to make conversation simple and now its Facebook's turn.
Advertisement:

We all know that Facebook had enabled hashtag feature in it before two months, and now they are testing trending section, which is similar to Twitter hashtag and trending section. Regarding this Facebook spokeswoman says, "We are running a small test of a unit on News Feed, and right now its only available to a small percentage of US users, and it is still in the early stages of development.". And they will let us updated regarding trending section when it gets rolled out to all.
Facebook's trending section working is of same as Twitter's. And here is the screenshot of Facebook's trending section,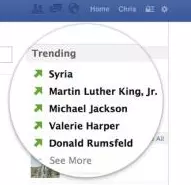 Lets wait for the update and start making trends in Facebook too.
SOURCE: Wall Street Journal
Advertisement: