It's a dream come true in the world of internet. I'm using a browser which I had a dream about it and would like to get one like that. Now by the internet grace I got a browser with handy ingredients and also for free without paying out a single penny. Want to know what would be my dream browser?  before that  I would like to say that its damn sure that you too will get addicted to it by uninstalling all other browsers in your PC.
Advertisement:

And my dream browser is Maxthon, a freeware and cloud based web browser which supports Windows, Mac, Android, iPhone and iPad. After downloading and launching the app in windows PC, it impressed with the first look by offering my  favorite  iron man skin. The word cloud made me to try this app assuming that it may give a better speed comparing to other browser. But its not just a better its a best lightening speed browser with 100x speed loading time. It doesn't end with speed…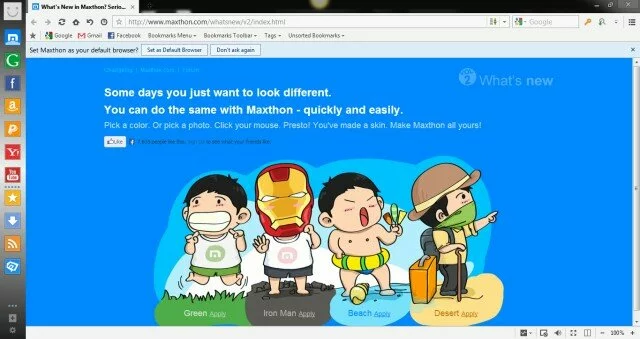 After launching the browser I tried to test the speed, and it worked like a boss without a struggle. And I tried to explore the additional features of the app which makes the research so interesting as I had found awing features for each clicks made.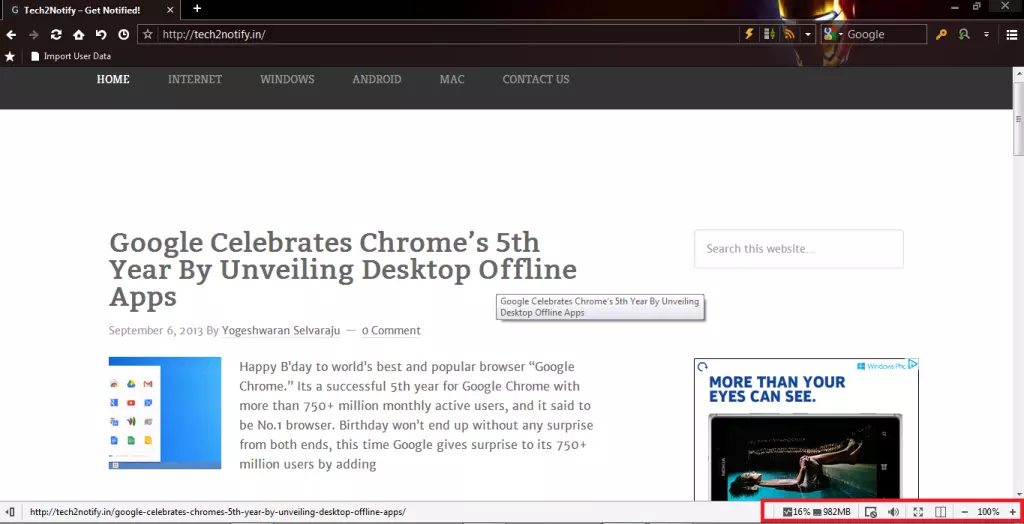 You can see a red colored highlighted box at the right bottom of the browser, and I had highlighted it tells you what it does. from the first row and in next row

You can get CPU usage, download speed, local IP, available physical memory and more

You can block pop-up ads or any other pop-ups by enabling first icon, next is used to mute the volume level from the browser itself, and you don't need to mute your PC hereafter while watching videos online.

You can zoom in and zoom out the webpage by clicking + and – sign.

You can view full screen by clicking first icon and next one is split screen icon, which splits your browser into two divisions when you click it. As I found it one among most useful one I would like to elaborate it.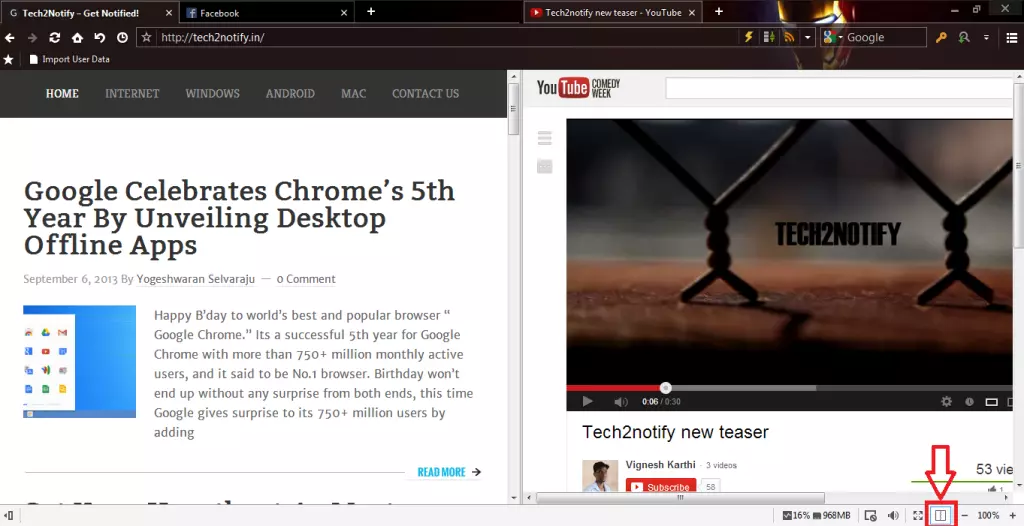 By splitting the screen you can work side by side instantaneously, and it helped me a lot while working by watching tutorial videos and installing side by side. It can help you in some other situations too.
I tested out the loading time with our own URL loading time improved comparatively to other browser's, and when clicked a link I found few new addition in the address bar and one among the addition are Reader Mode by clicking it, the post will be shown a printed format with various options to configure. And you can read the article without any ad distraction and with ease.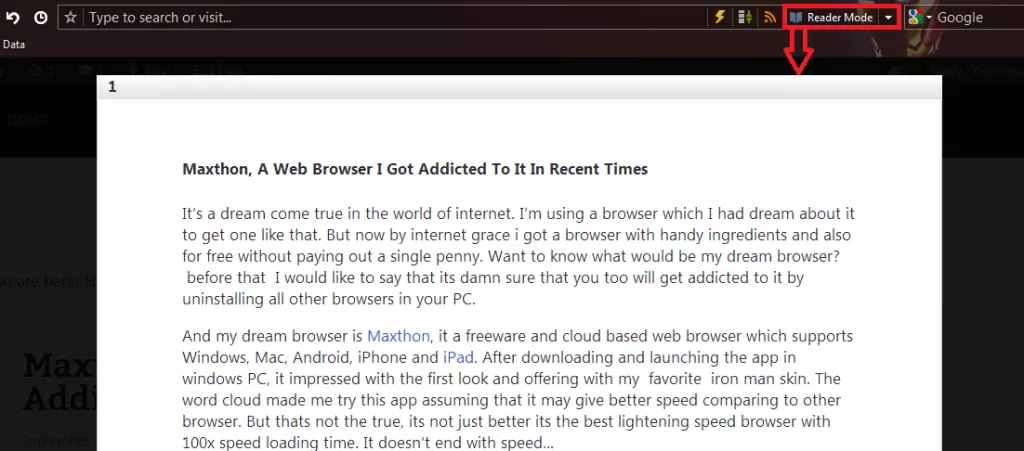 By checking with settings of the browser, it got an improvised UI than any other browsers you can customize it based on your needs, and it got skins, extensions and language at the bottom of the menu options. Get various extensions for the browser from the official Maxthon page.
After choosing settings option from the menu, you can navigate to various settings and can customize the browser according to your need. Additional features added to it that other browsers are Mouse Gesture, Magic Fill, and you can find more.
Some other additional features in the browser are added right next to the address bar.

Each option has unique functions from other browsers,
Magic Fill – Fills out the user details like username and password when they want to login to a page, only saved data will be filled out.
Resource Sniffer – It just simply grabs all the files available in a web page. Files like Video, Audio, Images can also be grabbed.
Snap – You can take a screen shot of the page and even send it via cloud storage.
Translate – Translates the web page language to your native language.
Clear History – Cleans off the history you have browsed.
External Tools – Tools like calculator, notepad and more. You can also add tool you want.
Developer Tools – Its just an awesome tool for developers, it will

helpyou

lot while developing web pages.
Download Manager – In-built download manager.
Night Mode – Turns off the brightness in webpages and give a better view at night.
SkyNote – Can make use of to take notes.
Its not just a limited browser, but I had limited my words. You can find more about the browser from the official page. And you too can explore it and comment us some more additional features you find.
Here's the link to Download Maxthon From Official Page.
You can find more features about the browser in this video, details other than I gave here,
Advertisement: