Everyday we may come across lot of interesting things in life and on internet too. Whenever I used to know about a useful application or info from another source I use Gmail to save the info, like the link and details about the application. But the process of saving looks so lengthy as I need to open Gmail, click compose and then compose the mail. But now, I found an alternative to push my daily notes, links to my PC or either to my phone. Its a two way communication as you can send files from PC to phone or phone to PC.
Advertisement:

Pushbullet is a productivity Android application which had minimized lots of work while I blog. As you can use Pushbullet to send links, pictures, files, lists, notes, and more right into your phone's notification tray, to your computer, or to a friend, really fast. Its not just fast, its lightening fast in sending and receiving files or text. Its not only me who finds it useful for daily life, you too will get used to it if you give it a chance.
You can use this application in both PC and Android phone by downloading the plugin to your browser and app from Play Store. You can also add your friends to the list and push files and text to them. You can access the files sent and received in pushbullet.com for PC, for phone you can access within the app.
Once you download and installed the app to your phone, just configure it with your email address and after that you may know what to do as you can get instruction at the start. After configuring with your email address in your phone, download the plugin to your browser and configure it with the same email address you used in your phone. To send files from phone click on the bullet icon with plus symbol at top right corner of the app, choose what type of file and send it by clicking on the arrow icon at the top.
And in your browser you can find a new bullet icon at the top right corner after installing the plugin, use the icon to send files from PC to Android phone. You can also send text from the browser using right click options.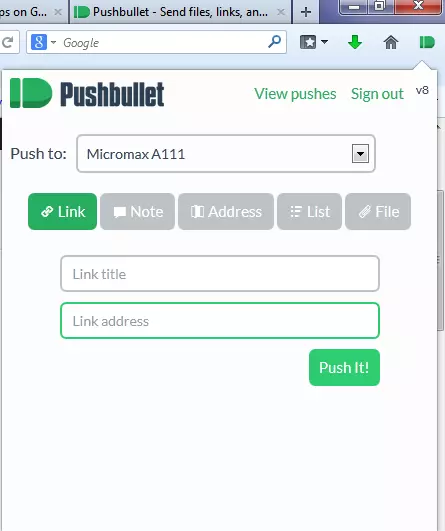 If you send larger files it may take some time to reach, but other small files are too quick in processing. You can a give a try to this application and you would feel amused.
Here's the link to download Pushbullet from play store.
Here's the link to download the plugin to your Firefox browser.
Here's the link to download the extension to your Chrome browser.
That's it. If you have any other queries about it you can ask us in comment section or make use of the YouTube video given below made by the Pushbullet developers.
Advertisement: