Previously, We notified you about Onetab, a chrome extension which will save up to 95% of memory because you will have reduced the number of tabs open in Google Chrome. Sure, you might have saved a particular amount of memory using Onetab. And now we found a new extension with same function, but with simple and easy features to operate. Are you ready to explore XTab extension?
Advertisement:

XTab is a productivity extension for Chrome web browser, which helps to limit number of tabs to be kept open while browsing. The function of the extension may be normal like other extension, but it does the work automatically based on the settings assigned to it. Once you install the extension to your browser, you can access it from the extension tray.
Click on the XTab extension to assign number of tabs to be kept open while browsing. Below the maximum tabs option, you can find few options like "Least recently used" "Least accessed" "oldest" which can be used to choose which tab to be closed. You can choose the option based on your need. Pinned tabs and tabs that we have never visited will not be closed. That's it! you can start browsing normally, and when you reach maximum tabs, it will close the old tab automatically.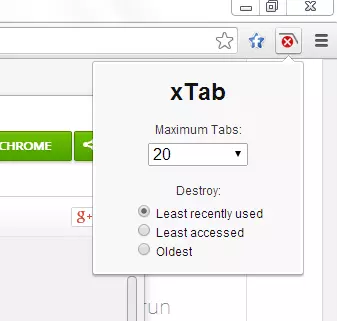 If you use any other extensions or plug-in to perform particular function, do share it with us as it might help others too.
Here's the link to download XTab from Chrome Web Store.
If you would like to something to this notification, please share it with us in the comment section.
Advertisement: