Finding it hard to place adsense ad code manually in WordPress blog? Here are the best 5 plugins to sort out ad management problem on any WordPress blog. These plugins will place your ads in best place to generate more income for your blog. Choose the plugin wisely according to your need, blog design and start boosting your adsense income. Don't forget to share these plugins or this post with your fellow bloggers and do mention your favorite adsense plugin in the comment section below.
Happy Blogging!!!
Editor's Pick: Google Publisher Plugin
The official Google Publisher Plugin for AdSense, written by Google. Supported products include AdSense and Webmaster Tools. The best ad-placement plugin to boost up your adsense earnings. The plugin automatically determines potential placements for AdSense ads, suggests an initial ad layout, and gives you control over the placement of ads on your site.
Google Publisher Plugin helped our blog to boost our income up to 200%. Do check it out and comment about your experience.
Rating: 4.4 out of 5
Ad Injection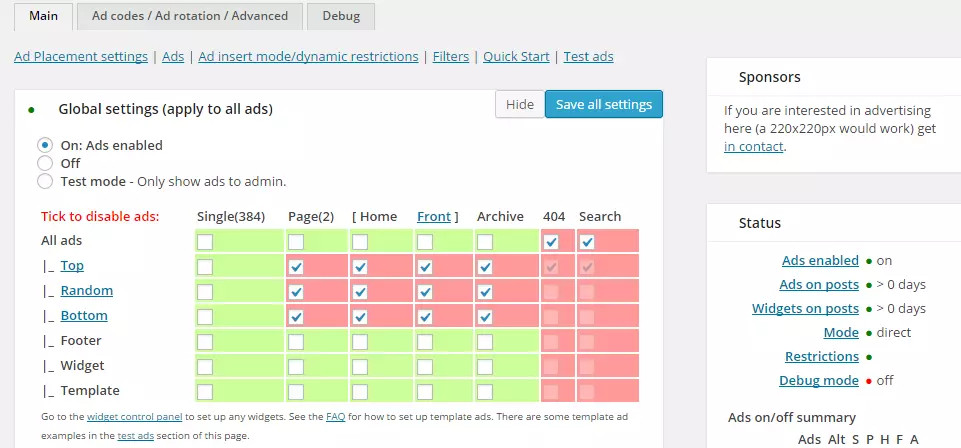 Ad Injection injects any kind of advert or other content (e.g. Google AdSense, Amazon Associates, ClickBank, TradeDoubler, etc) into the existing content of your WordPress posts and pages. You can control the number of adverts based on the post length, and it can restrict who sees adverts by post age, visitor referrer and IP address. Adverts can be configured in the post (random, top, and bottom positions) or in any widget/sidebar area.
Rating: 4.4 out of 5
Google Adsense
Google AdSense Plugin creates blocks to display ads on your website. It allows to customize the ads displaying, such as format (text ad, image, text with an image or link), size, color of the elements in the ad block, rounded corners and the ad block position on the website. It provides possibility to make ads unique and original.
Rating: 4.3 out of 5
Quick Adsense

Quick Adsense is an Ads management WordPress plugin. It offers a quicker & flexible way to insert Adsense or any Ads code into a blog post. Besides, it can randomly place the Ads anywhere within a post.
Rating: 4.2 out of 5
Easy Adsense

Easy AdSense provides a very easy way to generate revenue from your blog using Google AdSense. With its full set of features, Easy AdSense is perhaps the first plugin to give you a complete solution for everything AdSense-related.
Rating: 3.5 out of 5
The following two tabs change content below.

Yogeshwaran Selvaraju, Mechanical Engineer, Online Web Publisher. Completed Mechanical Engineering in a diverse way and finally ended up founding Tech2notify. He passes the time by Googling, Facebooking and movie buff.

Latest posts by Yogeshwaran Selvaraju (see all)