When we Google "Download Manager" we will be getting a long list to note down, will it be convenient to all our requirements, well it requires some research to do with it. Download Manager with features other than regular downloading activity will sure win the race, other features like easy download media files, grabbing online video files, one click download, right click menu option and more. Internet Download Manager will be having all these and you can use it for a trail period but after that you need to pay some $ to use its full features. But, now we have alternate download manager with exceptional features than IDM and free of cost. EagleGet is a windows freeware, download accelerator with better UI, video sniffer, automatic antivirus scanning, resume supported and more.
Advertisement:

To get all features of this, download EagleGet and install it to your computer. You will be getting a swishest UI which other download manager don't have.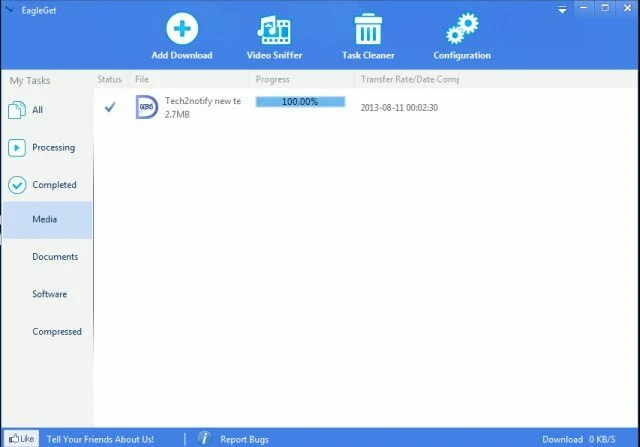 You can insert download link by clicking "Add Download" and "Video Sniffer" is used to download videos by adding the link to it. "Task Cleaner" clears off all data used while downloading and "Configuration" use to customize the download manager.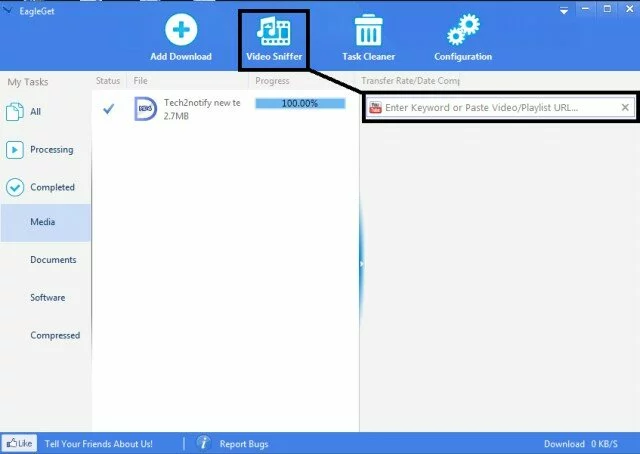 Another unique features available in EagleGet are the float icon at top right corner of the desktop screen, will be notifying you about downloading files. After download completed it will display a pop-up window as well as play a sound to notify you.
Other features like one click download, right click options and it also get integrated with all popular internet browsers like Firefox, Chrome, Internet Explorer and more…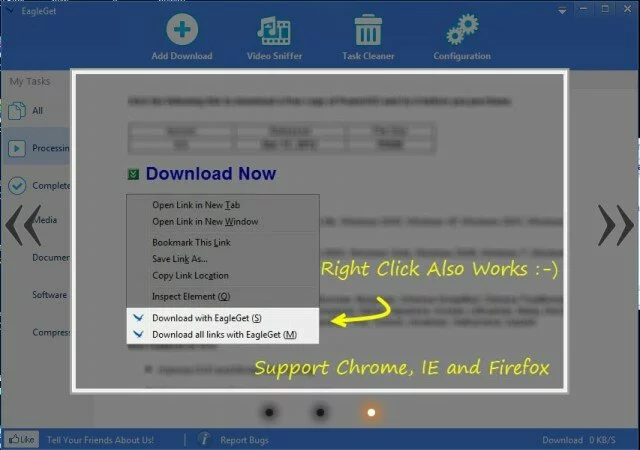 You can also read more about its features from bullet list below
Features
Increases Download Speed
Resume Broken Downloads Easily
Supports all Popular Browsers(Plugins)
Automatic refresh expired download address
Import download lists from other download managers
Built-in download scheduler
Download online videos from popular sites such as Dailymotion, Vimeo, Facebook…
Download different file types to separate folders.
Monitor running and completed tasks with TaskMonitor
Automatic Antivirus Scanning
Multi-Language Support
Optimized for HTML5 Online Videos
Freeware
It supports Windows XP, Vista, 7 and 8.
Here's the link to Download EagleGet
  Also Read About:
How to Control Your PC By Waving Hands
Advertisement: