It's an unmanageable one when we have more than two email accounts to check. To simplify this process, we can use forward mail option available in all Email service providers. By enabling forward option you can get all mails in one Email address which makes the work easy and efficient.
Advertisement:

To enable forward mail option in our mail account, follow the instructions below,
Go to http://gmail.com and log in to your account.
Click the gear wheel  on the top right below your display picture.
Choose settings option from the drop down menu.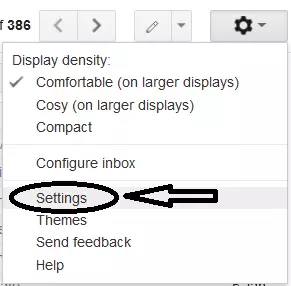 Select Forwarding and POP/IMAP tab and click Add a forwarding address in the forwarding section.

Enter the Email address you want to forward the mail to, by clicking Next, you need to confirm the forwarding email address by clicking proceed button.

 Open your forwarding email account in a new browser and open the confirmation mail, click the verification link received with that email.
Now get back to your previous email account, which you need to forward mail to another account.
Select Forward a copy of incoming mail to, choose your forwarding mail address from the drop down and choose keep Gmail's copy in the Inbox from the second drop down.
Now scroll down to click Save Changes button to save all changes made.
If any problem exists while performing this method just comment about it, we will help you out.
Advertisement: