World's first Android powered smartphone HTC Dream(T-Mobile G1) was available on October 22, 2008. Though Android was unveiled on 2007 no mobile phones were released, but today is the day where the first Android mobile was sold. By wishing Happy B'day to HTC Dream, lets move on to another Android release. And this just an prior release, and we got some great news waiting for us at the end of this month October,2013.
Advertisement:

Update: Google Play was initially released on October 23, 2008. So lets wish Google Play An advance b'day wishes.
Today Google upgrades play store with few changes in User Interface. And this may be some prior release for Android KitKat 4.4. As you can take it as a gift from Google on this memorable day. And we should wait some more days to get the next version of Android. Till then "Have a Break, Have a Kit Kat".
Previously we were using Play store version 4.3.11,
And here's the upgraded Play store version 4.4.21,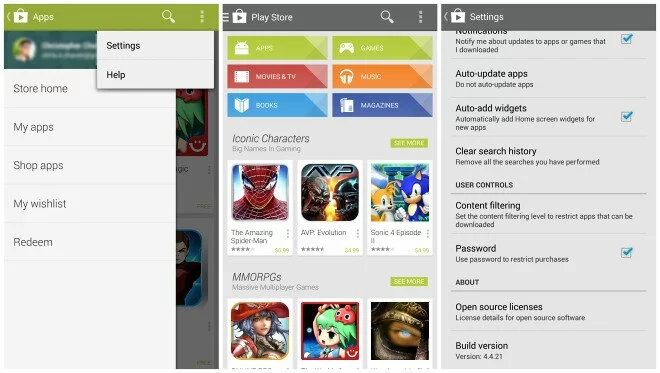 Can you guess the changes made? and here are some bulletins about changes made which we can identify them visually.
Instead of Google Play they changed it to Play Store at the homepage top.
Got new menu buttons like Music, Magazines in homepage.
Got new slide-out navigation, which is commonly found in all apps nowadays, and Google added this update just now.
There is a new addition next to search button, which gives settings and Help option by pressing it.
Sure this update will take some extra weeks to reach our phones. If like to get it now, you can download it from the below link. After downloading you can also share your experience by using the upgraded version of Play Store.
Here's the link to Download Play store 4.4.21(Mediafire Link)
SOURCE: Phandroid
Advertisement: