Do we use all the tool available in swisstool? Sure, the answer would be "No" as we never tried to make use of the each tool available on swisstool. The reason is there is no necessity to use it, but the manufacturer's still believe in it that one day all the tool will be useful. From that perspective, we would like to notify you about an All-In-One toolbox app for your Android Smartphone, and I believe that we would use all the features of it.
All-In-One Toolbox is a free productivity app for our Android phone, which has 29 built-in tools to perform different operations. It can perform each and every possible work that we do on a daily basis like checking the system memory, battery condition, network strength and more. It makes the work simpler by giving all the features in a single app that too at a file size of 3MB. And it saves our time, where we normally keep on searching for a particular application in play store.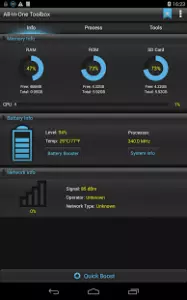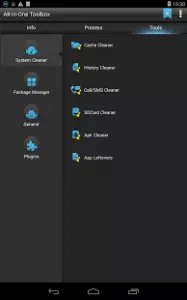 By installing All-In-One toolbox app to your
smartphone
you can uninstall
preinstalled
applications, zip & unzip files, backup & restore files, scan QR & barcode, use various plugins like flashlight,
applock
, compass and more. Can you believe that all these features can be performed using a single application. I forgot to mention a few features of it, if you would like to explore the other features, just download and install it to your phone and start exploring.
Top Features of All-In-One Toolbox,
System Cleaner – clean all unnecessary contents to boost phone/SD Card memory
Memory Info and Task Killer – memory information of the device, Task Killer and more
Package Manager – all tools needed to deal with app management
General—supplementary management of the device and the SD Card
Plugins—tools to choose upon personal needs and likes
If you find some hidden features of All-In-One toolbox do share it with us.
Here's the link to download All-In-One Toolbox from Play Store.
If you would like to add something to this notification, please share it with us in the comment section.
The following two tabs change content below.

Yogeshwaran Selvaraju, Mechanical Engineer, Online Web Publisher. Completed Mechanical Engineering in a diverse way and finally ended up founding Tech2notify. He passes the time by Googling, Facebooking and movie buff.

Latest posts by Yogeshwaran Selvaraju (see all)