Last month Google announced an update for Gmail which will be rolling out across the desktop, Android and iOS users. The update is about enabling auto-show images in the Gmail, previously users should manually enable images in their mail. The update had reached desktop users quick before the new year and now its time for the Android users to get this update in their Gmail app.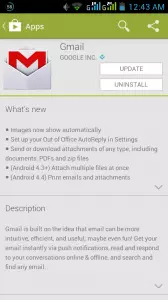 The next update will be rolled out to iOS users soon. Gmail ensured that the auto show image features are safer than the old as they had improved their security system. If you would like to authorize the image setting manually you can edit the setting by reaching General tab in Settings and choose "Ask before displaying external images." Otherwise it would be the default, and images will be loading automatically in all your mails you receive.
The newly enabled features in Gmail app are,
● Images now show automatically
● Set up your Out of Office AutoReply in Settings
● Send or download attachments of any type, including documents, PDFs and zip files
● (Android 4.3+) Attach multiple files at once
● (Android 4.4) Print emails and attachments
● Enhanced performance for low-memory devices
If you would to get the updated Gmail app for your Android phone you can download the updated version from the Play Store.
Here's the link to download Gmail from play store.
The following two tabs change content below.

Yogeshwaran Selvaraju, Mechanical Engineer, Online Web Publisher. Completed Mechanical Engineering in a diverse way and finally ended up founding Tech2notify. He passes the time by Googling, Facebooking and movie buff.

Latest posts by Yogeshwaran Selvaraju (see all)