Do you think your phone camera is a worthless, which can't afford you a better photo even in daylight with or without flash? No vex, Just spice up your camera features by just adding some ingredients to it without changing your phone camera ;). If a got a better phone camera with variable features, just give a try, and you wont miss it after trying out.
HD Camera Ultra is the one which is going to turn up your worthless phone camera into a valuable and ever worth phone camera you had used. Its just like default phone camera app which gets installed separately in your phone, and it doesn't change any settings in your default phone camera app. To use HD Camera Ultra just search for the HD camera icon in your phone after installing and you will getting alike UI of default cam app.
It has various white balance features like Auto, incandescent, daylight, fluorescent, cloudy, and you can also make use of zooming feature from 1x to 2x. You can make your photo more appealing by using various scene mode like  Auto, Landscape, Night, Beach, Snow, Sunset, Fireworks, Party, Candlelight which enables your photo with various effects. You can also turn on/off flash while taking snap. If you don't have flash on your phone just turn on night in scene mode and you be getting a better and clear photo from it.
After downloading and installing the app, I tried to check the difference between both in-built and HD camera app. Here is the snap, I took under low lighting condition but HD Camera just proved what it is meant to be. Both snap took by settingnight mode. And I tested it with a low end phone so it doesn't have flash to make the photo more brighter and clear. If you hadflash on your phone camera then its more better.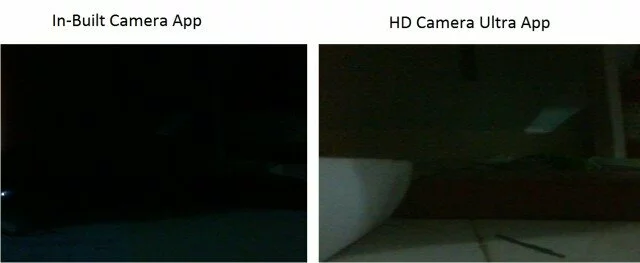 Features of HD Camera Ultra:
Optical/digital zoom(2X)
White balance(Auto, Incandescent, Daylight, Fluorescent, Cloudy.)
Exposure(-1 to +1)
Scene Mode(Auto, Landscape, Night, Beach, Snow, Sunset, Fireworks, Party, Candlelight)
Freeware
compatible with all devices
You can also make use of HD Camera in your phone and make your photo more clear and better even in low light condition without flash.
Here's the link to Download HD Camera Ultra From Play Store.
The following two tabs change content below.

Yogeshwaran Selvaraju, Mechanical Engineer, Online Web Publisher. Completed Mechanical Engineering in a diverse way and finally ended up founding Tech2notify. He passes the time by Googling, Facebooking and movie buff.

Latest posts by Yogeshwaran Selvaraju (see all)