English is well known language which has 360 million native speakers around the World. Languages other than English can't be understood by many people. There are a lot of applications available to teach us other languages easily without a strain. As translation can be made online with some websites like Google, Babylon, etc are available. Google translate is most used online translator around the world. These websites can be accessed only while we are being online. But now its easy to translate offline using this Word Lens Translator.
Advertisement:

Word Lens Translator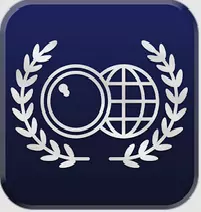 Word Lens Translator is an application for iOS and Android which translates instantly using phones camera. Open the app, just keep the camera focusing the words to be translated. Just a few seconds after that the text will be translated to English by default. You can choose For example the translation looks like the below screenshots,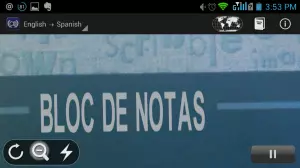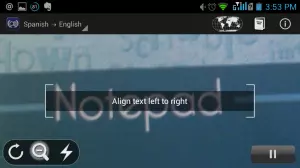 If your phone has flash light keep it on and auto-focus is readily available. Word lens translator will make our world trip a lot easier without a guide. No need to worry about other language menu card, just launch word lens and get your favorite dish served hot!
Word Lens Translator has a capablity to translate below mentioned languages
English to Russian (Vice Versa)
English to Spanish (Vice Versa)
English to French (Vice Versa)
English to Italian (Vice Versa)
English to German (Vice Versa)
English to Portuguese (Vice Versa)
Here is the official video of Word Lens Translator
Pros:
Instant Translation of words.
No need of internet.
Easy to use(Just use of camera).
Translations can be made just by clicking them or typing them.
Cons:
Translation is not perfect.
Cant translate hand written words.
App sizes around 42MB.
The words that are clearly printed can only be translated.
Here's the link to download Word Lens Translator from Play store.
Here's the link to download Word Lens Translator from itunes store.
If you would like to add something to this notification, please share with us in the comment section.
Advertisement: