Twitter celebrated its 8th birthday on March 21, and introduced a new tool to its tweeple called #FirstTweet. Today, Twitter announced two new mobile features to its Android & iOS app, and Twitter believes that these new features would make photos on Twitter more social. The two new mobile features are photo tagging and ability to add four photos in a tweet. Are you ready to explore more about these features?
Advertisement: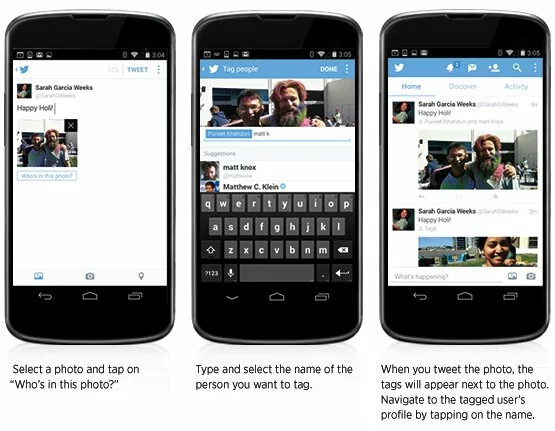 The first feature is all about tagging up to 10 people in a photo, without affecting 140 character count. You can check out the above image, to know how to tag people in your photo. When someone tags you in a photo, you would get notification and you can make changes in it by accessing your account privacy settings options. Sure! this feature makes our photo more social on Twitter.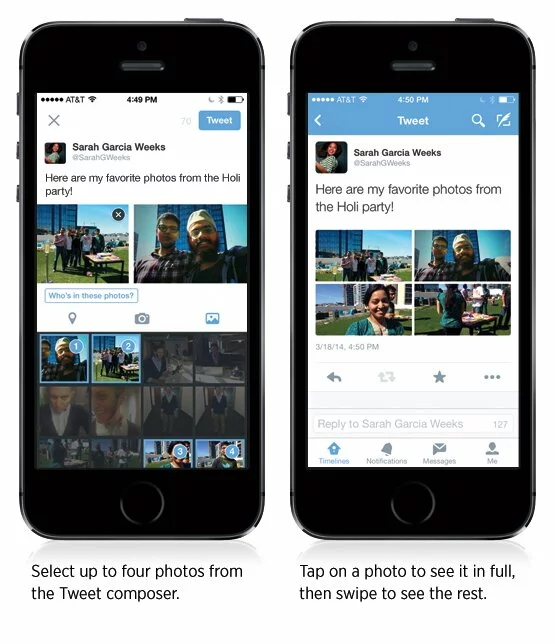 The second new mobile feature is adding up to 4 photos in a tweet. Many tweeple were waiting for this update, as they can upload series of photos in a single tweet. Whereas in past they need to create a single new tweet to upload a photo, which spoils our party time! Lets save some time for celebrations by making use of this new feature.
These two new features are currently available only on updated version of Twitter mobile app. So don't forget to update Twitter app on your phone. Soon it will be available on web version too.
Here's the link to download Twitter from Play Store.
Here's the link to download Twitter from iTunes App Store.
If you would like to add something to this notification, please share it with us in the comment section.
SOURCE: Twitter Blog
Advertisement: