Earlier this week, Twitter unveils a new tool called #FirstTweet for its 8th birthday. The tool was quite interesting, but Socialrank introduced a new service which would be better than First Tweet. Knowing our first tweet is easy without a tool, by just scrolling down. Is it possible to know who was our first follower on Twitter? Is there any tool to find it out? Are you ready to explore Socialrank's new service?
Socialrank introduced a service called #FirstFollower, which helps out to find our first follower on Twitter without scrolling down our follower list. And it's not possible to find our first follower by just scrolling. Check out our co-founder's first follower on Twitter!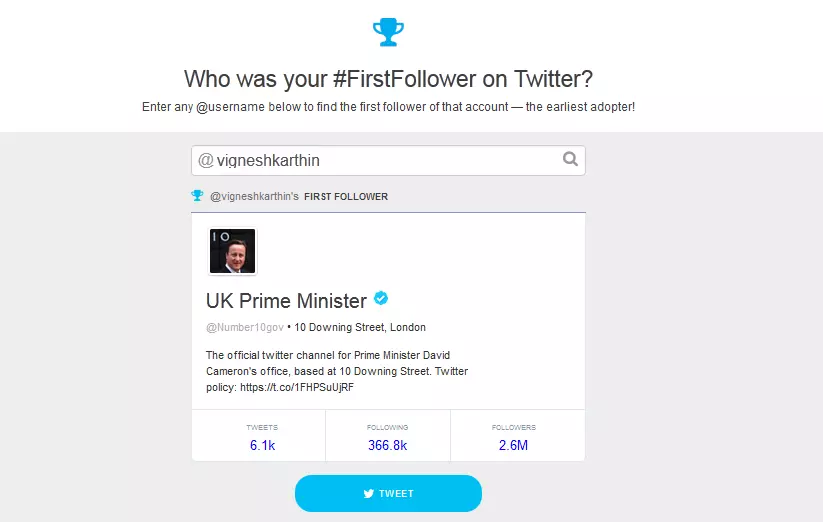 Do find out your first follower on Twitter by typing in your Twitter handle name in the search box. Have a Surprise! at your first follower. Don't forget to tweet about this and First Follower service on Twitter.
Also Read About: Twitter' #FirstTweet tool.
If you would like to add something to this notification, please share it with us in the comment section.
The following two tabs change content below.

Yogeshwaran Selvaraju, Mechanical Engineer, Online Web Publisher. Completed Mechanical Engineering in a diverse way and finally ended up founding Tech2notify. He passes the time by Googling, Facebooking and movie buff.

Latest posts by Yogeshwaran Selvaraju (see all)