Happy B'day to world's best and popular browser "Google Chrome." Its a successful 5th year for Google Chrome with more than 750+ million monthly active users, and it is said to be No.1 browser. Birthday won't end up without any surprise from both ends, this time Google gives surprise to its 750+ million users by adding a new section to the chrome store. Have you notified the new section!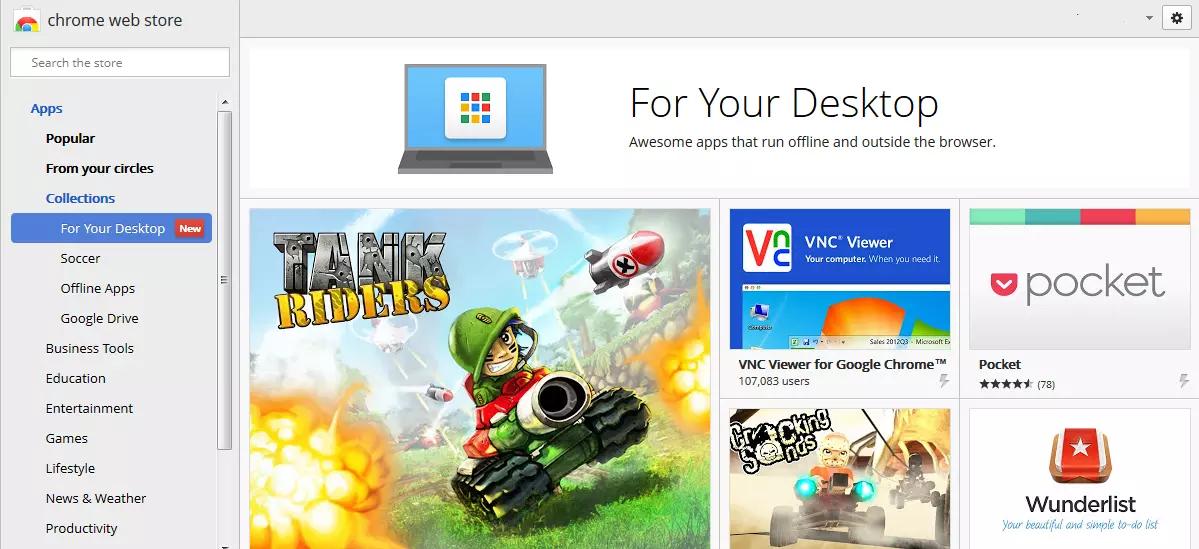 New section is For Your Desktop, where chrome users can get a new type of chrome app with various categories. These app can work out of browser which can work offline(without opening chrome browser) and can be viewed full screen too. About the apps provided are of classified by Google as Explore & create, Get stuff done and Be entertained.
Explore & create –

Pixlr

Touch Up, Until.AM, The Economist, Pocket and more
Get stuff done –

Wunderlist

,

Gliffy

, Google Keep, Lucid Chart and more
Be entertained – Cracking Sands, Tank Riders, They Need To Be Fed and more
Google had mentioned few bulletin too about the new chrome apps in their blog,
Work offline: Keep working or playing, even when you don't have an internet connection.
More app, less Chrome: No tabs, buttons or text boxes mean you can get into the app without being distracted by the rest of the web.
Connect to the cloud: Access and save the documents, photos and videos on your hard drive as well as on Google Drive and other web services.
Stay up-to-speed: With desktop notifications, you can get reminders, updates and even take action, right from the notification center.
Play nice with your connected devices: Interact with your USB, Bluetooth and other devices connected to your desktop, including digital cameras.
Keep updated automatically: Apps update silently, so you always get all the latest features and security fixes (unless permissions change).
Pick up where you left off: Chrome syncs your apps to any desktop device you sign in to, so you can keep working.
Sleep easier: Chrome apps take advantage of Chrome's built-in security features such as Sandboxing. They also auto-update to make sure you have all the latest security fixes. No extra software (or worrying) required.
Launch apps directly from your desktop: To make it quicker and easier to get to your favorite apps, we're also introducing the Chrome App Launcher for Windows, which will appear when you install your first new Chrome App. It lives in your taskbar and launches your apps into their own windows, outside of Chrome, just like your desktop apps. Have lots of apps? Navigate to your favorite apps using the search box.
Initially, these apps were rolled out for Windows OS alone, Mac & Linux users will be getting these apps soon.
Here's the link to Get Your Desktop Apps From Chrome Store.
  Also Read About:
Do magics in Google
The following two tabs change content below.

Yogeshwaran Selvaraju, Mechanical Engineer, Online Web Publisher. Completed Mechanical Engineering in a diverse way and finally ended up founding Tech2notify. He passes the time by Googling, Facebooking and movie buff.

Latest posts by Yogeshwaran Selvaraju (see all)